photos by Allen J Becker


Yasmin began her dance career in a small cabaret on the left bank of Paris called Al Djazair. She quickly moved on to the "big time" across the river on the Champs Elysees where she starred as the featured dancer in two famous clubs, Le Beirut and Le Yildizlar. There she worked with some of the most well-known Arabic stars and musicians of the time. Sabah, Walid Toufiq, Ahmed Adawia, Mohammad El Aizabi and Hassan Abou Saud were regular attractions.

After several seasons in France, Yasmin moved to London to work at The Omar Khayyam, the renowned club of Mona Said. There she was fortunate to work with master percussionist, Khamis Henkesh. But the draw to work in Egypt was too great and she moved to Cairo after a year to follow her dream. She appeared for two years at The Auberge on the Sharia al Haram and at the Holiday Inn. The head of her orchestra was Sayed Henkesh, the well-known Egyptian musician who helped Karin Van Nieuwkerk with her research for A Trade Like Any Other.

Yasmin now performs every Wednesday at MemSahib Restaurant in Rockville, Maryland and teaches professional level classes for aspiring dancers at her private studio. She also teaches lower level classes at Joy of Motion.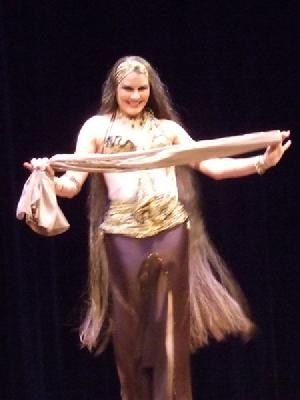 photo by Patty Aiello
Website powered by Network Solutions®